Earth Hour is an worldwide event that happens once a year, when the topic of sustainability and natural resources is a trend topic. For one hour, people turn off the lights of their houses, but not only that: the dicussions towards sustainable living and ways to make our lifes leave less impact on Earth are huge and necessary in this moment. 

For that reason, it is one of the key moments for WUKA, the Period Pants brand, to introduce their products to potential new customers. One pair of WUKA Period Pants can replace over 200 disposables period products, like pads or tampons from going to landfill. So, switching to WUKA, means a huge step to have a more sustainable life.

My role: graphic design, motion design, webpage design. 
BRIEF
Develop a campaign for WUKA, setting up a goal of disposables customers can help us save from going to landfill. The event has to happen for one hour, so not just the campaign needs to be ready by a certain time, but for one hour, the team needed to be working to solve any issue with Shopify. The user journey needed to be seamless, since we had the expectations of the website having a huge traffic for those 60 minutes.
SOLUTION
We settled up a goal of 1 million of disposable to be saved during that hour, by giving a massive discount of 50% Off in the most sustainable styles of period pants: the Midi Brief, made from TENCEL and the Organic Bikini, made from organic cotton. The team decided not having any paid ads, so all the posts on social media and messages to customers and followers were organic. The website had a waiting page, to warm up users, and we had some minutes to put the collection.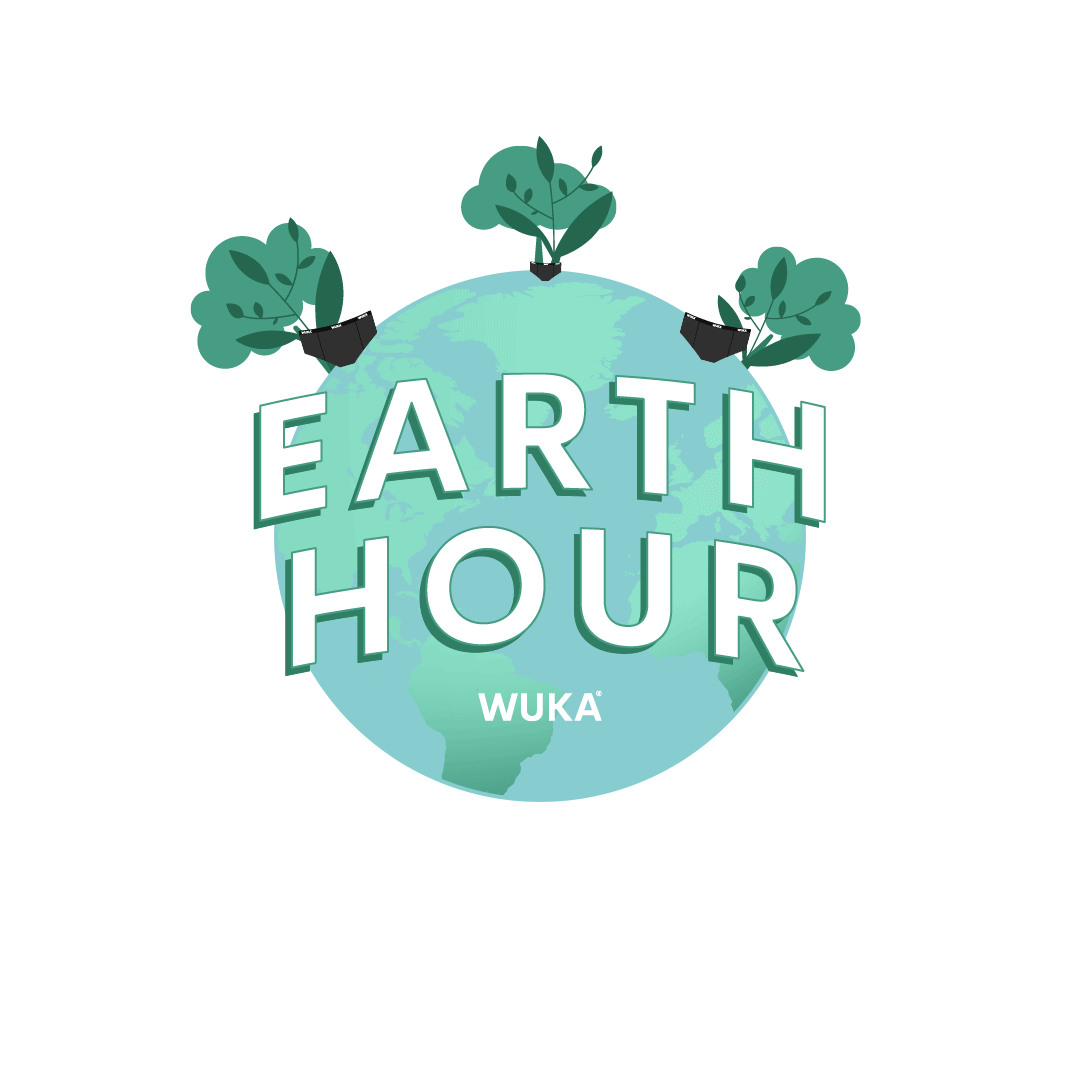 The team decided not to do any paid social ads in this campaign, but create a series of Instagram Stories where followers could understand how impactful Earth Hour can be, as well as WUKA Period Pants as a sustainable period product. 

The slide header in the website had a teaser for customers to "be prepared" for Earth Hour, but the discount was only shared some minutes before the event. The homepage was designed to make the user journey as simple as possible, leading users from the first banner or first style featured to the Earth Hour Collection page. 
Inside the Product Page, we created a button with the same colour of the event, so users could check the F.A.Q. page created only for Earth Hour. This way, our customer service could work on more complex questions and situations during the event.
The outcomes were really successful. In less than 40 minutes of the promo, more than
1.400.000
disposable period products were saved. Followers got a better feedback (and big thank you) two days later, after we stopped the counting app inside Shopify. Giving this feedback to customers was also very important, so they could feel part of the change for a better world.