Alvorada is a traditional radio station in Belo Horizonte, Brazil. I joined their marketing team in 2015-2017, working as a full time brand designer.
My role: Graphic Design, Illustration, Stop Motions, Press Kit design, Support Production, Photography.
Copy Writing and Content: Marcos Oliveira
BRIEF
Develop a new visual identity for social media plataforms, considering the main target for listeners, investors and business partners.
SOLUTION
Create a vibrant color palette, but make sure to look the remarkable and traditional radio station. Create patterns for photos in editorials, events and illustrations.
I started working with Alvorada during college. I was part of a new marketing team, which was small but very productive. Alvorada is really well known for playing the old and new MPB (Brazilian popular music) as well as classic international music (pop, rock, balads). Besides that it promotes theater plays, movie sessions, gastronomy events and local music festivals, often giving free tickets to listeners.

However, they needed to introduce they old and new listeners to the digital world. Men and woman in theirs 25 - 50 years old was the main target here. 

The team created editorials, about music, cinema, concerts and curious facts about the music world. Visually, we decided to create a well defined color palette, bringing a warm neon orange and the yellow, making the brigde with the old visual identity, now in transition. We also focused on icons that would remind the digital devices and slowly introducing the new app as a new possibility to listen the radio. ​​​​​​​



Click in the images to expand.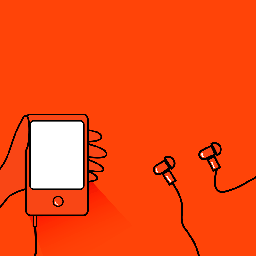 Celebrating the new year of 2017, the campaign for social media would bring big names of national and international music with their most popular words. Besides that we created a gif where the users could "play", randomly getting their resolution for the new year.
Feeling -

Adele

| Romance -

Ana Carolina

| Poetry -

Caetano Veloso

| Lightening -

Gilberto Gil

| Imagination -

John Lennon

| Boldness -

Madonna

| Happiness -

Michael Jackson

| Friendship -

Milton Nascimento

| Fantasy -

Rita Lee
This is the visual identity designed for the annual media fest of Radio Alvorada. For each year, the marketing team of Alvorada chooses a theme for the party and celebrate those who contribute with radio stations and advertisement in the city of Belo Horizonte.

In 2017, the the theme was the 50 years of the Sgt Peppers, Beatles album. With the marketing team we developed all the decoration, visual identity, menus, videos, social media and apparel.
In my last month with Alvorada team, we started a study to develop their first dedicated application. Unfortunately I had to leave the team, but here are some screens we started creating before I left.