In May of 2021, WUKA was ready to launch a new style of period pants: the Thong. A loved style of underwear for so many women in the U.K., could now also be great for those light period days. Our team worked on this project, aiming our personas aged between 19 to 35 years old. The thong is the perfect style when they're ready to wear skirts, dresses or shorts.  

My role: graphic design, photography and videos. 
BRIEF
Develop a campaign for WUKA, creating a visual identity for the new style launch, according to the season and the aimed audience. Create the digital ads, annoucement video showing the product features and bringing the key message in tune with the product. 
SOLUTION
We focused on the younger audience and the photos were made in a green backyard where besides the sunlight, there were blossom trees. We took the colour palette from those flowers and made the campaign with a strong pink and feminine visual.

Our key message was "Yes you can", to feel sexy, to wear a thong on your period and to enjoy the summer even if you're spotting.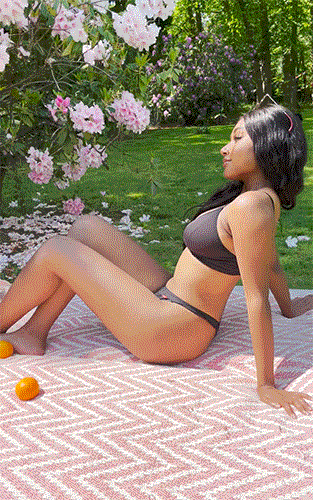 Some gifs created from videos, to be shared on the newsletter and to be shared on Instagram account.
The announcement video brings the product's features, fabric and flow details, and this time we had some lifestyle videos in between.
Some headers created for Shopify.