This project was developed along a bootcamp course (Aela.io). It is part of the level #2 and it is still in progress. Here is the the process and upcoming results for a new interface and experience design.



Work in Progress.
Wikipedia is an online and free encyclopedia, created and edited with volunteers around the world and hosted by Wikimedia Foundation.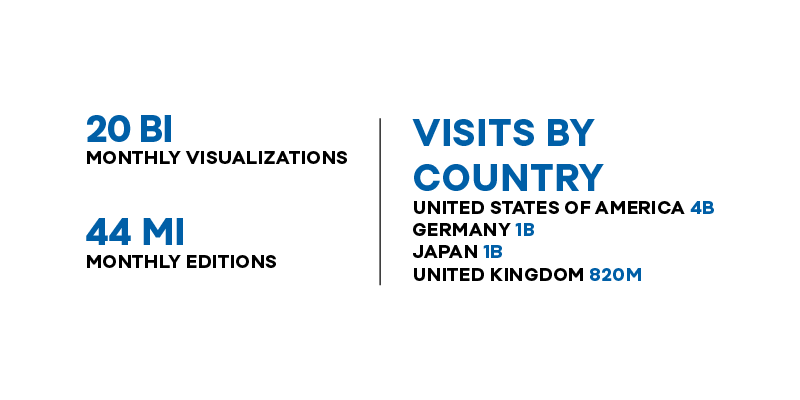 The basic mind map, with the main pages in the website, helped the project to understand better all the menus and bars Wikipedia has, but also showed the good amount of information that is not well displayed, they're almost hidden. A good example is the donation page, hiding underneath the collaboration category. The menu bar on the left is densely informative, but there's a lack of hierarchy.
We can also note that there are many ways to get to an article. It can be random (for fun or curiosity), if searched in some external portal like Google and finally, with the search bar in the page. This last one doesn't have a lot of visibility.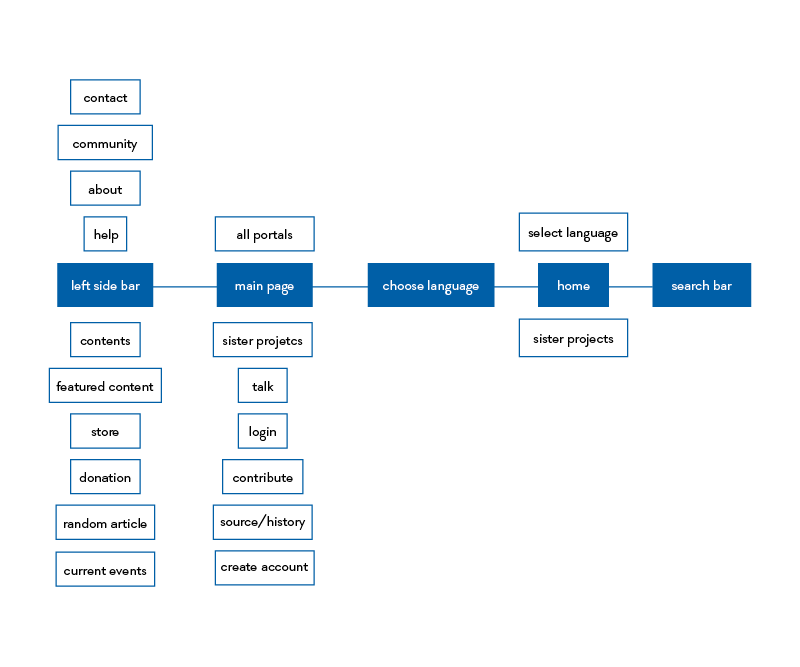 Google Forms | Whats App | Articles
This was the first research, a Google form with some questions for potential Wikipedia users. In total, it was around 10 questions. However, the process here had some mistakes, with some questions that might have implied in the answers. For this reason, most part of the answers could not have been taken seriously in the process. That's how I learned from failure. I created a second interview and decided to do it on Whats App.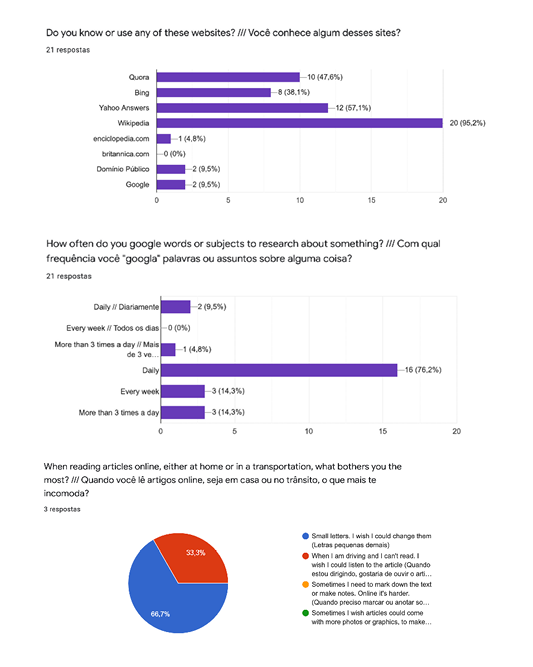 95.2%

  Know/Use Wikipedia
66.7%

  Don't like the small letters
33.3%

  Would like to listen to the articles
76.2%

  "Google" words daily
This interview was made with people with age between 13-53 years old. Part of the interviewed, went through a second step, where they researched something with Wikipedia, read the subject and then answer more 5 questions about their process.
​​​​​​​
8 questions made while chatting.
1. Where do you live? How old are you?
2. The internet, Wifi or 3G in your location, does it work well?
3. Do you drive, take the public transport or walk commuting to work/uni? 
4. Are you used to research complex subjects in common portals? 
5. Can you tell me some websites you use? Or some you know better or trust better?
6. While you were in Uni, Wikipedia, Medium, Encyclopedia.com were used websites? 
7. When you read some articles, or long texts, what bothers you the most?
8. Is there any website that overcome these problems for you? If yes, which one?
2/8
+50, Have used Wikipedia while in Uni and today, they have kids studying.
4/5

  23-30, D

on't have an exc

ellent wifi signal at home.
4/8

  Get bothered with articles with small letters.
3/8

  Get bothered with articles not well designed or visually polluted.
The second step in the interview was done with people that seemed more interested after the first step. All of them happen to be in the university in 3 different areas in Brazil: Sao Paulo, Minas Gerais and Mato Grosso do Sul.

2 of the 3, mentioned in the first step that their internet is not so good, the wi-fi signal is poor

.
5 questions made after they researched something with wikipedia.
1. Describe how did you get to the article page.
2. Do you think the article is well written and edited?
3. What do you think that can be improved in this page?
4. Which subject did you research?
5. Would you dedicate more 30 minutes reading something on Wikipedia?
3/3

  24-27, Googled the subject first,  their subjects were chosen for fun/hoobie.
2/3

  Say the content doesn't cover much, need more copy and images.
1/3

  Believe the page is not well updated.
Wikipedia's redesign for a "beautiful" website sounds impossible. The main focus of Wikipedia is accessibility. "To redesign the website fairly, it's necessary to consider that it functions in the worst computer in the world."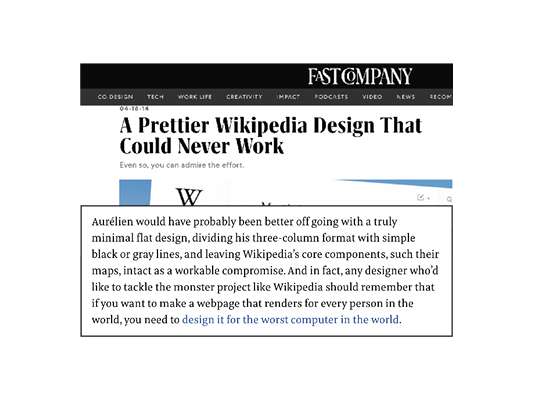 Even with high precision and good results, Wikipedia is not taken seriously because it's a open edit source. Users say they use the website always validating the results with other websites they trust more or have better reputation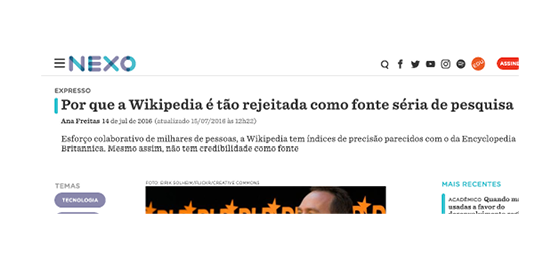 After the interviews and research, two personas were created. Analysing all the answers and crossing some data, the conclusion was that:
People in the University or students preparing to enroll in a higher education in Brazil, use Wikipedia and many times they struggle with a good Wi-fi connection. They also question a lot the content itself.
It sounds bad, however, all of them are potential editors in a website like Wikipedia.
People that know Wikipedia for longer, nowadays are between 30 and 55 years, but nowadays they struggle finding what they want in the page. They think the website has small letters, but also the information is not well organized on the layout. We definitely agree that there's a lack of hierarchy in the pages and no white space.
With the articles it was possible to understand that, even though Wikipedia is known worldwide with many many users, it still doesn't have a lot of credibility among users. Since most of the users reached Wikipedia through Google search page (that is a name who brings more credibility), the plataform suggest a nice support, but also makes Wikipedia lose visibility, as a brand.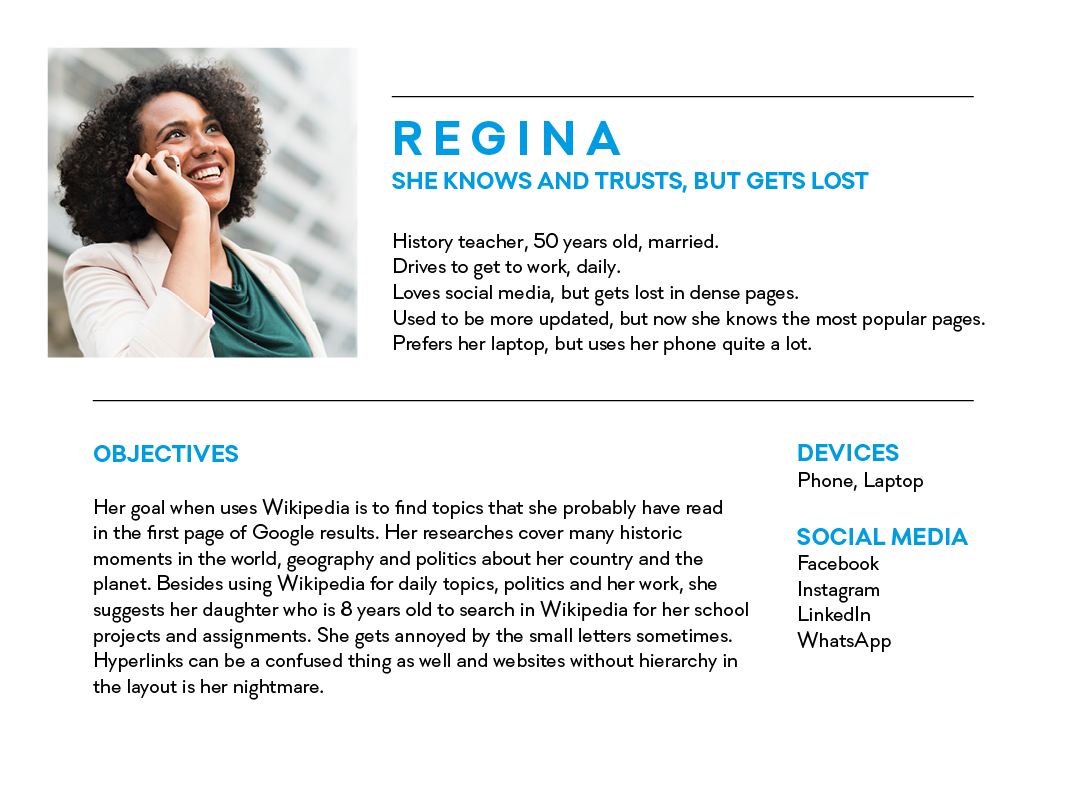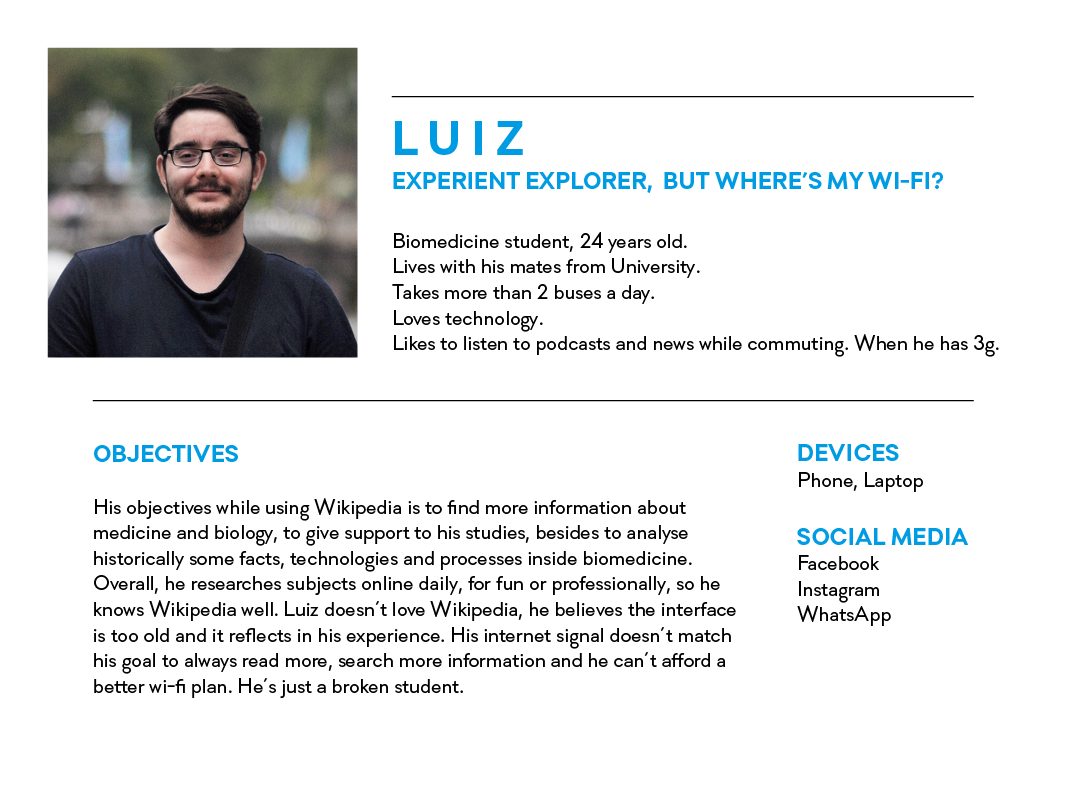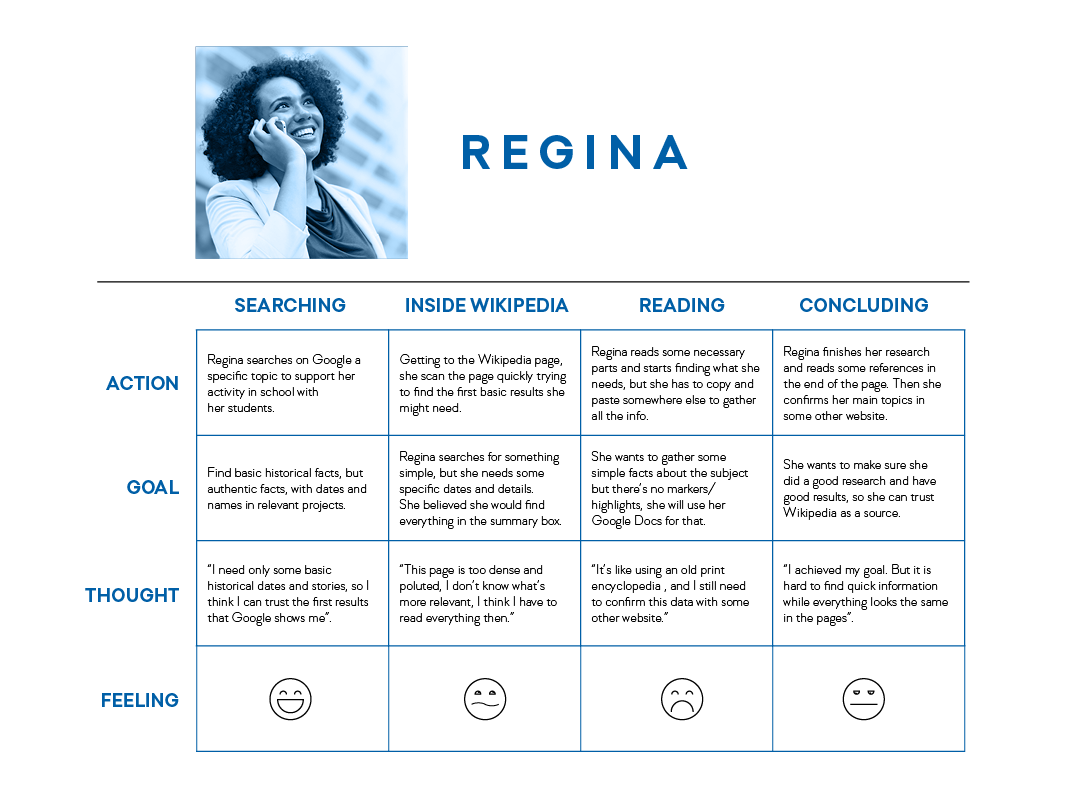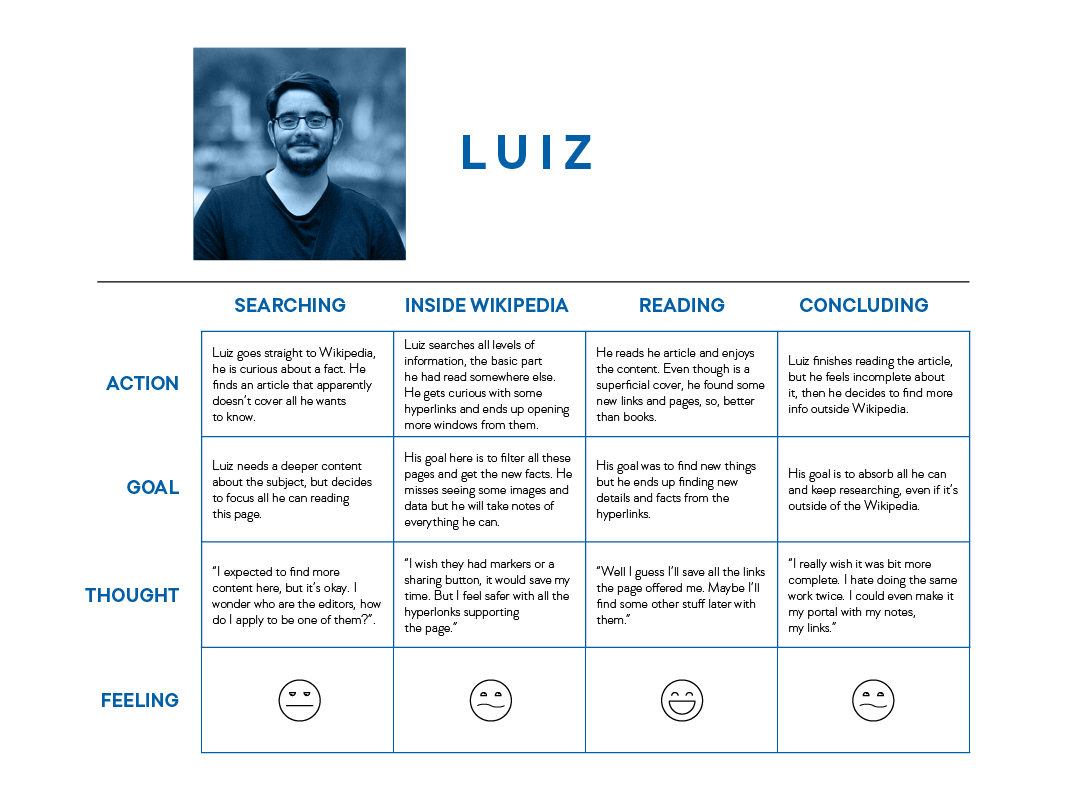 The analysis for the current interface was very helpful. Here lays the main issues and problems, affecting the readability and as a consequence, usability. Besides that, it's quite clear how Wikipedia doesn't invest in brand design, since it has a lack of unity, color palette, typography.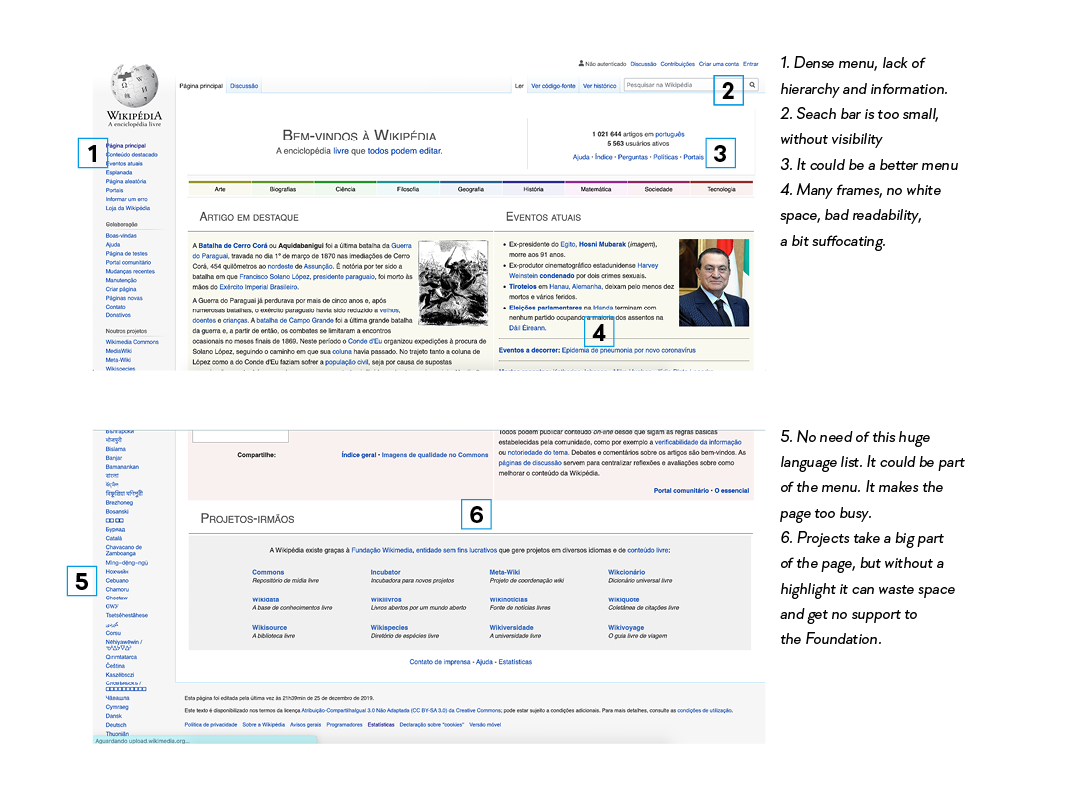 Questions and (Possible) Solutions
After analyse personas, journeys and interface, these were the questions that came up. In this process, we need to understand that not everything is priority, so, using a similar How Might We method, we could rewrite problems and then see what could be priority.
​​​​​​​
• People of different ages and classes need to use Wikipedia, without demand a extraordinary internet and fast wi-fi or even a super new computer. How might we design the interface that loads quickly for everyone? |
• People know Wikipedia because it's simple, direct. How might we design the interface improving the aesthetic and the experience but keep the familiarity? |

 

Improve the layout, making use of typography and color. Create narrowed columns and possibilities to optimize the page according to the user's needs.
• People don't trust Wikipedia as a 100% reliable website. How might we redesign the interface and make sure the website is being honest, loyal to its users about the editions? | 

Design a badge/seal with the percentage of votes (by registered users) about that article. +50% is a green seal, -50% is a red/yellow seal. Select some articles with the signature of the editor, showing it's worth and humanizing editions.



• People like to get informed while they commute around the city, driving or in the public transport. How might we combine these necessities in the page? |

Develop a storage with audio articles, located in every page. It will assist people that need to move around and can't read and also people with different visual conditions. 
• Wikipedia, as a Foundation, needs donations to work regularly. Not just money, but also editors donatin

g their time and improving the content of the website. How might we redesign the page attracting more inverstor and editors and making all of them happy? | 

Highlight buttons and areas focused on donations and editions in the website. Develop a color palette, besides the black and white, bringing attention to these areas.
Democracy | Accessibility | Familiarity | Credibility